On Laundry
A Beginner's Guide to Laundry
January 18, 2022 · Alex Ulbrich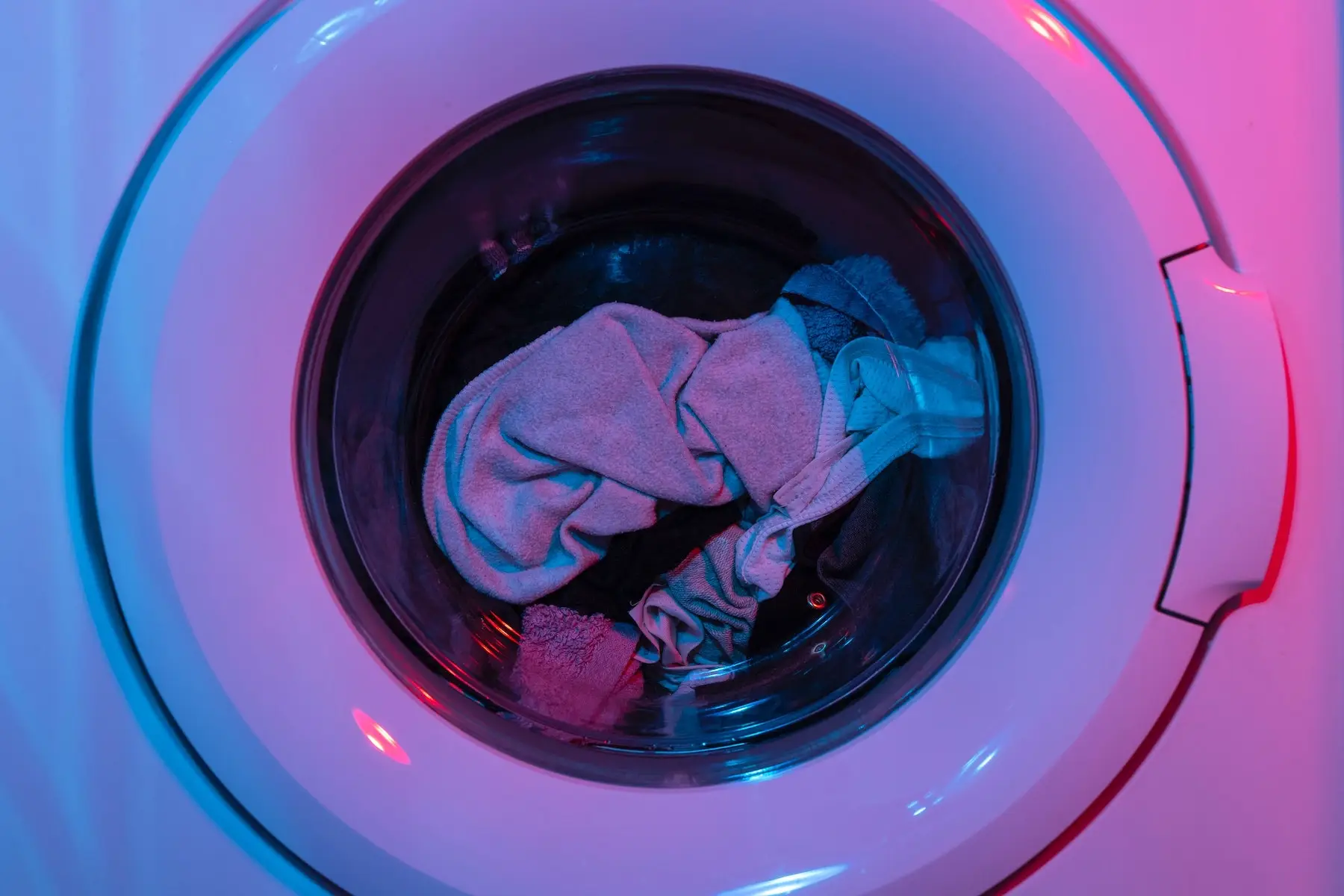 Table of Contents
Basic, easy, and quick, science-backed, guide to laundry. I don't have much time but I care about my garments, my health, and the environment. Use at your own risks.
tl;dr
Treat stains as soon as possible with friction and the proper detergent
Use a low dose of high-efficiency (non-scented) laundry detergent
Don't use softeners
Cold wash, long wash
Wash similar colors and textiles together (e.g., white, dark, color, sport, wool)
Use laundry bags for tear-prone (delicate) or tear-causing items
Air dry or machine dry on low heat
What You'll Need
Here's a short list of things to have in your pantry to do your laundry. Refill when low.
Recommended Brands
Here are a few brands I recommend based on experience:
Nikwax for technical and synthetic clothes (sustainable, water-based)
Dr. Beckmann for odors and specific stains
The Laundress for day-to-day laundry (sustainable, expensive)
Seventh Generation for day-to-day laundry (sustainable, B Corporation)
Here's a great analysis of other laundry detergents by Wirecutter.
If you can manage to refill the bottles, it will save some plastic.
Alternatively, you can also make most of the things listed below by yourselves. There are many sustainable DIY guides on the internet to make your own detergent and stain removers. It will probably save you some money, but lose some time.
Detergents
Buy laundry detergent that works at 30˚C (85˚F, cold). Make sure it fits your machine (e.g., high-efficiency).
You can find dedicated detergent for different types of garments, such as:
Normal or white only
Colors
Delicate
Sports
You can get great results with an effective normal detergent though.
Favor sustainable and environment-friendly brands, or make your own.
Non-Chlorine Bleach
Some detergents have anti-odor properties. Don't buy the ones that mask the odor with scent.
It's better to have a dedicated product, such as activated-oxygen bleach (i.e., hydrogen peroxide). [10] It should kill most bacteria or fungi responsible for bad odors.
Alternatively, using white vinegar in a pre-wash cycle should help getting rid of the odor.
Stain Removers
Have dedicated stain removers for hard-to-remove stains (e.g., oil, blood).
You should also have hard Marseille soap (olive oil only!) at hand.
Ideally, treat stains as soon as they appear.
Water Softener
If your water is hard and you don't have a water softening system in place, here are some options.
You can buy tablets to soften the water during the wash cycle. It will dilute in the water and soften it.
Alternatively, you can use white vinegar in the softener dispenser (post-wash/rinse cycle). Experiment with the amount, as the vinegar odor can linger in clothes.
Laundry Bags
Get laundry bags of different sizes for fragile, tear-prone items, as well as tear-causing ones. Make sure that the bag's zipper handle is covered when closed to avoid said tear.
Ideally, you can also get special laundry bags for your synthetic garments. These bags will collect microplastics resulting from friction.
Drying Rack or Clothesline
Get a drying rack that:
you can easily move or stow away,
is large enough for your household.
Alternatively, install clotheslines inside or outside (or both), depending on your availability.
If you live in a damp climate (e.g., Pacific Northwest), you might need to use a dryer.
What You Should Avoid
Some things bring negative value and can be toxic to your health.
Heavily scented and Low-Quality Detergents
Heavily scented detergent or low-quality ones can cause skin irritation and might reduce air quality. [8, 9] Low-quality detergents are less effective than water to clean your clothes.
Softeners (both liquid and dryer sheets)
Softening chemicals will stick to your clothes and are hard to remove. They reduce the absorbing properties of the garment, ad will cause bacteria to develop in your clothes on the long run. These products can cause skin irritation and might reduce air quality. [8, 9]
Dryer Balls or Similar
You'll need a ton of these balls (30+) to have the slightest effect. I could not find any research papers proving the efficacy of dryer balls.
Laundry
As a rule of thumb, you don't want to:
mix light and dark-colored garments,
mix incompatible fabrics,
shrink, discolor, or break garments.
I list a couple of easy steps to make sure we can avoid most problems.
For brand new items, in particular cotton or bright-colored ones, wash them individually at first. They can shrink or bleed.
Prepare
Remove garments that can only be dry-cleaned. Hand wash silk in cold water.
Separate clothes as such:
white garments
black or dark garments
colors
sports garments
heavy technical (e.g., winter jackets)
(optional) wool garments
Prepare your clothes:
Turn all garments *inside out* but for socks and underwear.
Empty all pockets.
Close zippers.
Tie hoodie's drawstrings together.
Put fragile garments in a bag (e.g., thin fabrics, wool).
Put garments that may cause tear in a separate bag (e.g., bras with hooks in the back)
Remove Stains
For difficult stains, follow the instructions on the stain removal product label.
For lighter stains, use the Marseille hard soap with mild water and rub. Drop in drum right after.
Wash
Check your washer instructions. Watch out for the maximum weight.
(Optional) Drop a water softener tablet in the drum.
Check your detergent instructions, and pour the right amount in the soap dispenser or directly in the drum (top loader). Better less than more.
(Optional) Pour an anti-odor product, such as non-chlorine bleach, in the right dispenser (start small).
Power the washer and choose the right program (if any).
Adjust the temperature to maximum 30˚C (85˚F, cold).
(Optional, for synthetic or sports garments) Select the extra-rinse option (extra-water).
Fill the washer with the right clothes.
Launch.
Don't forget to regularly drain the washer and follow maintenance indications.
Drying
Favor air drying your clothes, it will save a ton of energy. Dryers will be most efficient at killing bacteria in your clothes, followed by drying in the sun. [10]
Take your garments out of the washer.
Shake garments one by one, and lie on the rack or clothesline, in a well-ventilated area. If living in a damp climate, favor outdoor drying or a mechanically ventilated space. Make sure there are no wrinkles, as it can save you ironing.
Alternatively, you can put your clothes in the dryer (if not wool or delicate items). Start the dryer on the lowest possible heat mode (it will save energy and avoid damaging or shrinking your clothes). Repeat if still damp.
Don't forget to regularly clean your dryer filters and follow maintenance instructions.
Ironing
I don't do it as it takes too much time.
I bring my shirts, pants, and suits to the dry cleaner.
The Science
Everything we say must be backed by facts. Here's some research to support our statements and give more details.
The Sinner Circle
The Sinner circle (from Dr Herbert Sinner in 1959) is made up of 4 components that all contribute to the cleaning process:
temperature (low or high temperature),
time (short or long wash cycles),
chemistry (more or less detergent),
mechanical action (more or less friction).
The concept behind this circle is that if you reduce one component, you'll have to balance it by another one. Typically, if you reduce the temperature, you can increase the time and get the same cleaning power. [6]

Note that this is not fully accurate as, for example, too high temperatures might interfere directly with some detergents, reducing their efficacy.
We want to reduce our environmental impact. Reducing temperature is thus our best bet.
Optimizing Individual Components
Detergent alternatives such as soap nuts are not better than washing with pure water. Additionally, you can use as much as 50% less detergent and achieve similar results to using the recommended amount. [1]
A good detergent will work better at 30˚C (85˚F) than a non-efficient one at higher temperatures. Higher temperatures will also negatively impact the color of garments. [2]
Hard waters have high levels of minerals (positively charged magnesium and calcium ions) that interfere with the surfactants in detergents. These ions can also create a white precipitate with some detergents. Detergents contain builders that are responsible for binding positively charged ions. More detergent means more builders, but also more surfactants. [7] It's thus important to soften the water during all cycles by using dedicated products, not more detergent: less surfactant is used, and garments suffer less. [3]
Don't go heavy on the detergent, research proved it does not help. Too much soap actually helps with the proliferation of bacteria, in particular in synthetic clothes.
Using a water softener, you can use less detergent.
References
[1] KRUSCHWITZ, Anke, AUGSBURG, Aline, et STAMMINGER, Rainer. How effective are alternative ways of laundry washing? Tenside Surfactants Detergents, 2013, vol. 50, no 4, p. 263-269. https://doi.org/10.3139/113.110258
[2] LAITALA, Kirsi, BOKS, Casper, et KLEPP, Ingun Grimstad. Potential for environmental improvements in laundering. International Journal of Consumer Studies, 2011, vol. 35, no 2, p. 254-264. https://doi.org/10.1111/j.1470-6431.2010.00968.x
[3] ABELIOTIS, Konstadinos, CANDAN, Cevza, AMBERG, Caroline, et al. Impact of water hardness on consumers' perception of laundry washing result in five European countries. International Journal of Consumer Studies, 2015, vol. 39, no 1, p. 60-66. https://doi.org/10.1111/ijcs.12149
[4] BOCKMÜHL, Dirk P. Laundry hygiene—how to get more than clean. _Journal of applied microbiology _, 2017, vol. 122, no 5, p. 1124-1133. https://doi.org/10.1111/jam.13402
[5] STAMMINGER, Rainer. Modelling resource consumption for laundry and dish treatment in individual households for various consumer segments. Energy Efficiency, 2011, vol. 4, no 4, p. 559-569. https://doi.org/10.1007/s12053-011-9114-x
[6] BASSO, Margherita, SIMONATO, Michele, FURLANETTO, Riccardo, et al. Study of chemical environments for washing and descaling of food processing appliances: An insight in commercial cleaning products. Journal of Industrial and Engineering Chemistry, 2017, vol. 53, p. 23-36. https://doi.org/10.1016/j.jiec.2017.03.041
[7] SMULDERS, Eduard, RAHSE, Wilfried, et RYBINSKI, Wolfgang. Laundry detergents. Wiley-Vch, 2002. https://doi.org/10.1002/14356007.a08_315.pub2
[8] STEINEMANN, Anne C., GALLAGHER, Lisa G., DAVIS, Amy L., et al. Chemical emissions from residential dryer vents during use of fragranced laundry products. Air Quality, Atmosphere & Health, 2013, vol. 6, no 1, p. 151-156. https://doi.org/10.1007/s11869-011-0156-1
[9] GOODMAN, Nigel, NEMATOLLAHI, Neda, et STEINEMANN, Anne. Fragranced laundry products and emissions from dryer vents: implications for air quality and health. Air Quality, Atmosphere & Health, 2021, vol. 14, no 2, p. 245-249. https://doi.org/10.1007/s11869-020-00929-0
[10] ABNEY, Sarah E., IJAZ, M. Khalid, MCKINNEY, Julie, et al. Laundry Hygiene and Odor Control: State of the Science. Applied and environmental microbiology, 2021, vol. 87, no 14, p. e03002-20. MLA https://doi.org/10.1128/AEM.03002-20